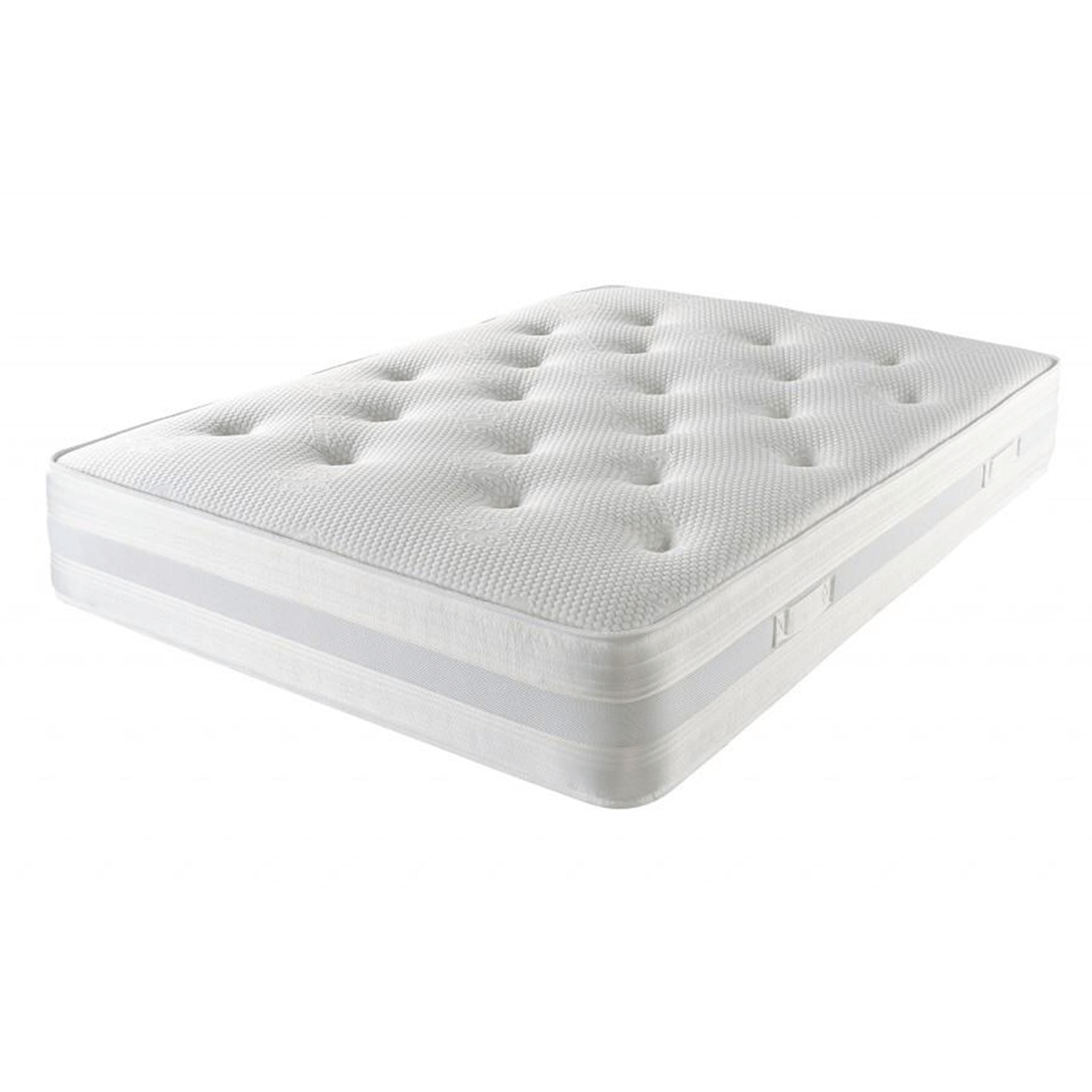 3000 Pocket Spring Mattress
---
| | | |
| --- | --- | --- |
|  Sizes  | Width ( In cm ) ) | Lenght ( In cm ) |
| Single ( 3FT ) | 90 cm | 190 cm |
| Small Double ( 4FT ) | 122 cm | 190 cm |
| Standard Double ( 4FT6 ) | 135 cm | 190 cm |
| King ( 5FT ) | 150 cm | 200 cm |
| Super King ( 6FT ) | 180 cm | 200 cm |
Imagine the comfort you can get from 3000 individually pocketed springs complimented by the incredible softness of memory foam. With our memory foam 3000 pocket sprung mattress, you do not have to imagine anymore because you can experience this ultimate luxury in your bed. Available in all the standard sizes to match our handcrafted beds, these mattresses provide much more than a good night's sleep. As if the benefits of memory foam were not enough, we have combined it with pocket springs to provide you with an unrivalled experience.
Sleep Like a Baby
You have been lying in your bed for hours, trying to find that one right posture which makes you feel comfy; sometimes you do, and sometimes you don't. Say goodbye to sleepless nights with our 3000 pocket sprung memory foam mattress. You don't even have to try to find that comfortable posture anymore because our 3000 pocket springs mattress will do it for you. The pocket springs move individually instead of rolling together. This allows them to adjust according to the posture of your body. They adapt to your weight and shape, providing your body with a soothing feeling and keeping you asleep without any interruption. A great advantage of pocket sprung mattresses is that they can adapt to any body shape or weight.
No More Disturbance
Pocket springs provide highly effective motion separation. As every spring is installed and pocketed separately when you move, you do not cause a lot of noise. This makes them highly suitable for couples, especially the ones who are tired of each other's tossing and turning. The springs absorb any sudden movements while keeping the mattress stable. Our 3000 pocket sprung mattress with layer of memory foam is, therefore, a preferred choice for couples.
Maintains Optimum Temperature
Do you turn in your bed because you feel that a certain spot in your mattress has become hot? Do you feel that your body is heating up? If the answer is yes, then you need to get a mattress that provides proper temperature regulation. A mattress which gets neither too cold nor too hot. A mattress prepared from multiple layers of memory foam to ensure that excessive heat is not captured by the memory foam. A mattress with pocket springs fitted individually so that air can easily flow between them. These are the features of our memory foam 3000 pocket sprung mattress. These features keep your body temperature within the optimum range which is required not just for falling asleep but also for staying asleep.
Stimulation of Pressure Points
There are several pressure points located all around our bodies. When stimulated properly, these points help in relieving pain. The pocket springs work on the same principle and stimulate your pressure points to soothe your body after a tiring day. They ensure the even distribution of your body weight across the length and breadth of the mattress. Whether you choose the king size 3000 pocket sprung memory foam mattress or any other size, you will be enjoying comfort and healing. Our mattresses are ideal for people with muscular pain or those recovering from surgery.
All British Standard Sizes Are Available
You can get all the standard sizes in our 3000-pocket sprung memory foam mattress to match your bed. These include:
3 Feet Single Mattress
4 Feet Small Double
3000 Pocket Sprung Double Mattress
5 Feet King Size
6 Feet Super King
Select from our vast range of masterfully crafted beds and matching mattresses to enjoy the ultimate comfort and luxury.
Long Term Investment
Pocket spring mattresses are known for their longevity. The combined action of the pocketed springs and the memory foam reduces the wear and tear of the mattress. Our mattresses are covered by a considerable warranty which we believe you will never need because of the premium quality materials we use.
Additional Options
Scented pocket spring mattresses are also available in various fragrances, such as lavender 3000 pocket sprung memory foam mattress. Different mattresses and covers are also available, including cashmere. Check out our website for the entire range of options.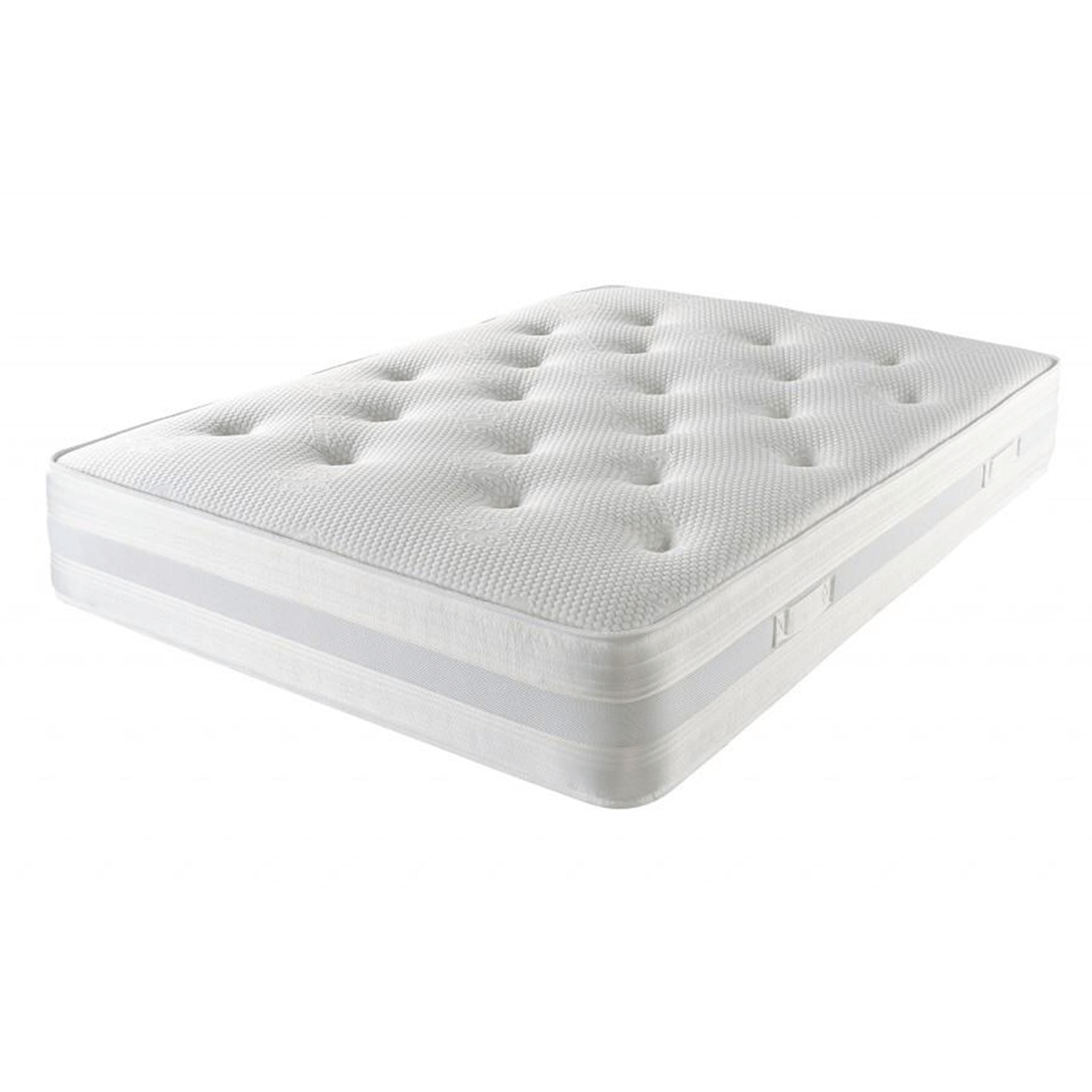 FAQ'S
Got questions? We have answers.
Explore our comprehensive FAQ section to find all the information you need and embark on a seamless journey towards a delightful experience.
When can I expect my item to arrive?

A team member will always be in contact with you to keep you updated with your order and where it has got to. Then a suitable date and time is arranged for delivery. If there is any other questions or inquiries don't hesitate to get in contact with one of our staff and we will be able to assist you further.

Do you offer any finance schemes?

Yes we offer finance schemes such as Klarna (pay in 3 instalments)

How do I place and order for my samples and how long do they take to arrive?

Please visit the following link for further pictures and details to place your order for samples. Also our samples could take up-to 3-10 days to be delivered.

How can I place my order on hold?

We can place your order on hold till you are ready to have it delivered whether it's to your new home or same address.

Do you ship outside of the UK?

We ship all over UK and Northern Ireland but extra charges are applied depending on the location.

This product has no reviews yet.